---
SONORE
the sound has to be in concert with the music....

WHAT WE DO: We offer a select line of products to improve your computer audio listening experience.
---
USB to i2s Interface
for DIY projects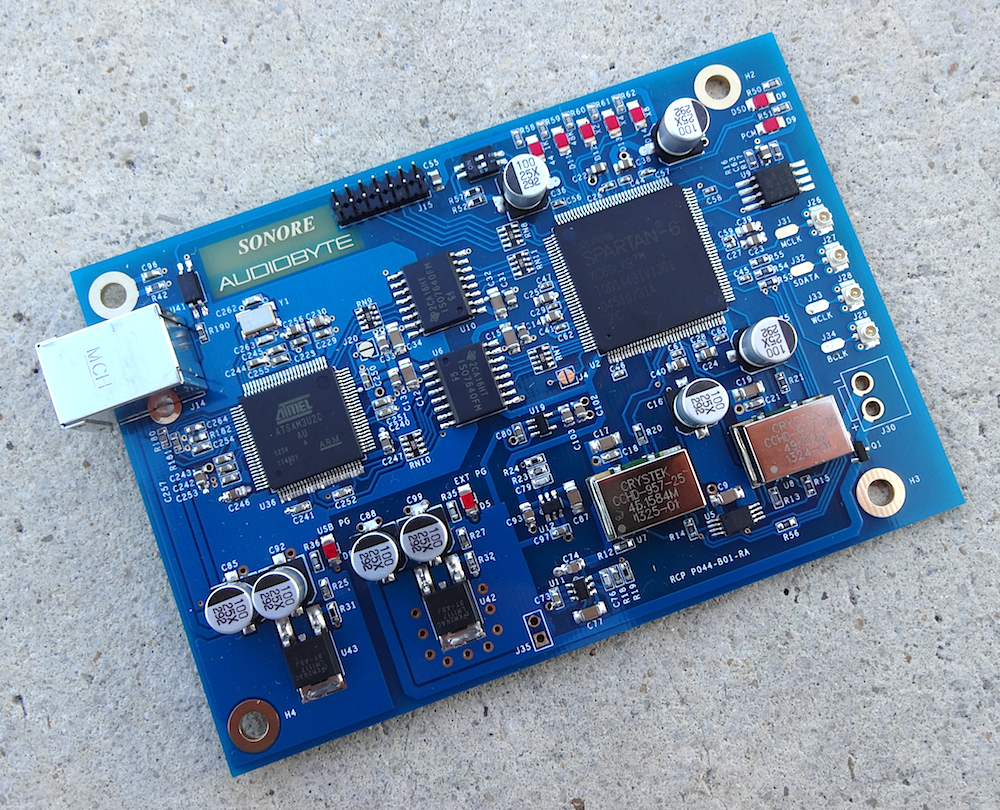 PRODUCT DESCRIPTION
The Sonore USB to i2s interface is a high performance DXD/DSD128 capable asynchronous USB interface designed for DACs using the ESS Sabre chip. The asynchronous USB receiver is powered from USB allowing for complete isolation of the oscillators, re-clocking and oversampling/filtering (including ground) from the source. Crystek CCHD series ultra low phase noise clocks are used for the lowest possible jitter. On the "clean" side of the board, the Crystek oscillators (45.1584/49.152 MHz), the FPGA running the oversampling filter (OSF) and the re-clocking circuit, are powered from a user provided ~5 VDC source.
A unique feature of this interface is the (optional) onboard OSF. This filter oversamples to 352.8/384, using specially developed proprietary digital filters. The filter design takes advantage of the high power available in the FPGA to incorporate a sophisticated partial minimum phase filter, which greatly reduces pre-ringing, while still providing excellent stop band rejection (anti aliasing).

The USB Interface can also be used with other I2S/DSD DACs.
STANDARD FEATURES
Custom 8x/4x/2x OSF using a semi minimum phase design for reduced pre-ringing
Jumper to allow bypass of on board regulator for direct 3.6 VDC
Multiplexed DSD/I2S
Bit Clock=Bit Clock DSD
Word Clock=Data L DSD
SData=Data R DSD
Master Clock=Master Clock
On board sample rate LEDs
On board power LEDs
On board signal lock PCM/DSD LEDs
SUPPORTED PCM RATES
44.1 KHz-384 KHz

SUPPORTED DSD RATES
2.8 MHz (DSD64) - DoP, native (via ASIO)
5.6 MHz (DSD128) - DoP, native (via ASIO)
11.2 MHz (DSD256) - native (via ASIO)
22.5 MHz (DSD512) - native (via ASIO)

COMPATIBILITY
Native support on Mac OS 10.6 and later
Native support on Linux with UAC2 compliant kernel
Support for Win XP to W8 32/64 bit

SPECIFICATIONS
Power input: 5VDC, ~300 mA
Width: 74mm
Depth: 104mm
---
Email us at: sales
Copyright © Simple Design, LLC
All Rights Reserved